Free Downloads for Playtesting Regimental Fire and Fury Variants
Someday we hope to expand the Regimental Fire and Fury rules system to refight historical battles of the earlier American wars. We envision publishing a separate book for each war, with a short chapter explaining the basic rule changes, quick reference sheet, and special variant rules. Most of the book will be dedicated to a dozen or so scenarios covering the most notable battles and smaller engagements of each war. You will need a copy of the Regimental Fire and Fury rulebook, and your own military miniatures armies, to play these variants:
American War of Independence
War of 1812
Mexican-American War

A Beta copy of the variant rules, quick reference sheets, and scenarios can be downloaded for FREE. Keep in mind, the products are works in progress, but we feel confident they are ready for playtesting by the broader Fire and Fury gaming community.
In return, we would appreciate feedback on our forum page about your playtest experience. As we further develop the variants, we will notify you, via the forum, of any updates. Together we can improve our Fire and Fury variants to better represent the historical period and make gaming these battles more fun.
Regimental Fire and Fury
is not just a wargame that recreates the battles of the American Civil War. It was also designed as a generic set of rules covering a broad period of warfare that lasted for nearly three centuries.
Often called the
Black Powder Era
, the most common weapon on the battlefield was the short-range, muzzle-loading smoothbore musket. Black gunpowder discharged from these weapons, produced billowing clouds of acrid white smoke. Through this pale, officers rode bravely into battle at the head of their troops. With their banners waving amidst parade-like formations, the infantry marched shoulder-to-shoulder to the beat of drums. Within 100 yards of the enemy they halted to exchange volleys, or fixed bayonets and charged. Artillery thundered above the rattle of musketry, firing round shot and shell at longer range, and even more lethal grape and canister as the enemy closed. The cavalry, charging with drawn saber or leveled lance, struck fear into the opposing foot soldiers. The generals made command decisions that committed their troops to battle, like a dire game of rock-paper-scissors. The infantry, cavalry and artillery maneuvered, fought and died, until the battle ended in victory or defeat.
---
RFF Variant for the American War of Independence, 1775-83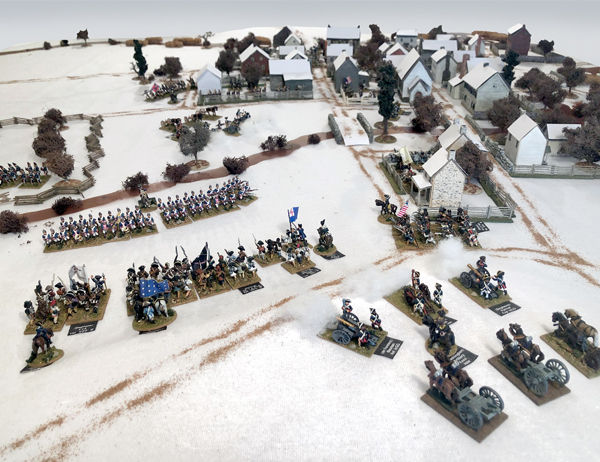 ---
RFF Variant for the War of 1812, 1812-14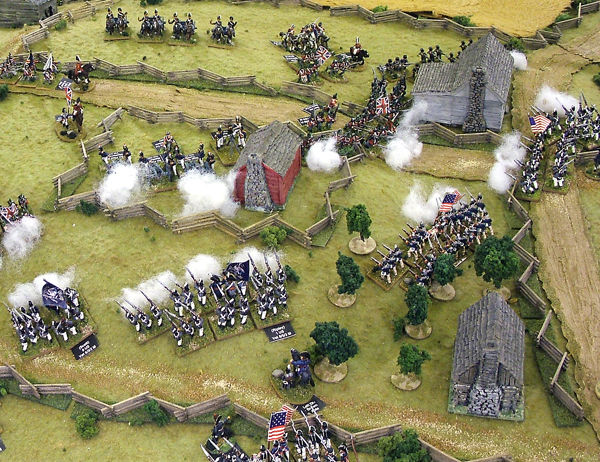 ---
RFF Variant for the Mexican- American War, 1846-48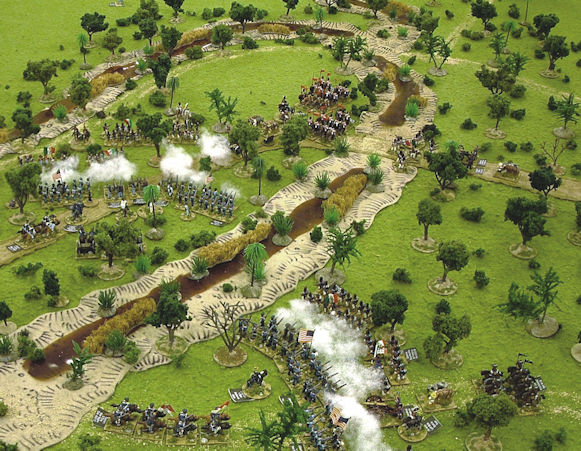 ---
RFF Suvorov II Quick Reference Sheet for 15mm
2-page pdf / 8.5 x 14-in. / 560 KB
Version 1 / last update 27 Jan, 2021
Download